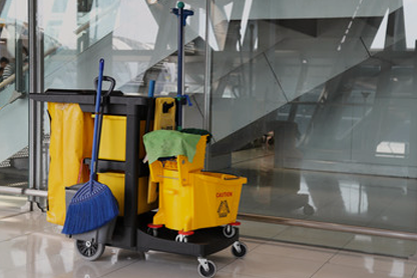 A clean office is a happy one, so keep it tidy! When customers or clients visit your office, you want to ensure it's clean and presentable. That's where Quinn's services come in. 
Let our staff customize a cleaning service program to suit your needs and budget. Whether you require daily office cleaning, weekly or monthly service, or just one-time-only janitorial service, you can count on Quinn's for top-notch office cleaning at unbeatable rates.
Our commercial janitorial services include basic cleaning tasks such as sweeping, mopping, and vacuuming. Additional services include window washing, carpet cleaning, and waste removal. From reception areas to restrooms, We have the resources and expertise to clean your office building and get the job done right the first time.
Regular office cleaning prevents the spread of germs and illness, creating a healthier workplace and a more enjoyable one for employees. Our expert cleaning staff will provide your company with a worry-free way of maintaining a professional atmosphere day after day. 
---
Car Dealerships
Quinn's has a long history of providing quality cleaning services to the automotive industry and has the experience and expertise to handle the unique challenges exclusive to dealerships.
From cleaning office areas to service bays and showrooms, our trained staff understands how to handle difficult clean-ups concerning grease, chemicals, and of course, your valuable inventories.
The automotive industry is highly dependent on public perception. A clean and well-maintained dealership is essential to creating a good impression with potential customers and can ultimately lead to increased sales.